We were one of the million families that decided to build a pool during the pandemic. Here was our experience with cascade custom pools.
Our house has a steep grade in the backyard and we wanted a company that specialized in quality pools on hillsides. We didn't want fast and cheap, so if you're looking for an inexpensive pool builder, Cascade isn't for you.
We also didn't want to use a mega pool builder like Cody as we wanted someone customized for our unique yard.
We worked with our pool designer Patrick, from Cascade, who spent hours in our backyard taking in all the different viewpoints, wind and sun directions.
What a great experience we had with Cascade Custom Pools. Competitive pricing, fastest build time by far, beautiful design….all of that and then you have Austin Olsen as your Project Manager??!! Recipe for success! He is so professional, always responds quickly, super friendly and addresses every concern like you are the only customer. Will be calling him first for the next house. Thank you Austin!
Working with TJ at Cascade has been a wonderful experience. He is very knowledgeable, talented and honest about everything in my experience.
Happy to have them as part of the team on projects!
Can't just trust anyone when making as large of a purchase as putting in a custom pool – TJ and Jason at Cascade Custom Pools were absolutely awesome to work with!
They exceeded our expectations with the design, the construction process and the finished product. These guys are true professionals.
Good morning TJ! I just wanted to send a note to tell you how great Jason has been as our project manager. 
He made the process feel very seamless and we very much appreciate his communication and attentiveness.
We would absolutely recommend Cascade!
Have a good day!
Thank you Hank, Theresa, T. J., and everyone else for being part of my
dream come true!
T. J. was able to work around every constraint, from not
removing any of the oak trees to supporting easy in/easy out for both the
young and the elderly.
The crews that came onto my property were nice,
hard working, no nonsense kind of guys that kept the construction area much
cleaner than we expected.
When I was undecided on tile selection and
decking options, the advice I received was perfect!
I absolutely love, love, love the tile and plaster combo "we" chose!
At the end of the project it's obvious everyone involved from the office staff to the boots
on the ground in my backyard have seen many times what I could only imagine
but couldn't quite wrap my head around.
Thank you for being a part of my dream come true!
I wanted to take a moment to thank you for taking care of the issues related to our pool. When the cleaner line developed a leak, Cascade Custom Pools went above and beyond to take care of the problem. We are very happy with the new cleaner and pleased that you were able to take care of the erosion that resulted.
Thank you to Natalie as well. She was fantastic at communicating with us throughout the process and keeping us informed.
When we first built this pool several years ago we were pleased with our entire experience with your company. Jason, Theresa, Hank, and Margaret have all been wonderful and responsive to us from the very beginning to our latest experience. It is details like this that separate Cascade Custom Pools from other builders out there, and a big reason why we wholeheartedly recommend your company to others when asked.
Keep up the great work, and best wishes to your team in 2019.
Thank you Margaret, Jason and TJ-
We are really enjoying the pool in the backyard. TJ, you had a great design. Jason, you worked hard to make sure all the details came together. Margaret, you kept us all on track!
We just love so many parts about the pool! Grilled out with friends for the first time this weekend and it was great. Thanks so much for your good work.
Hello! I just wanted to send a note to thank you and Cascade pools for the amazing work in our yard. The weather was nice in October and we were able to fit in several weekends of swimming. And now that the weather has turned, we're using the hot tub a ton. The pool is beautiful and the project is exactly what we wanted.
Thank you again for all of your hard work. Please extend our thanks to the broader teams that were part of this effort.
Thanks for the beautiful pool. We love it and it exceeds our expectations. We will be glad to recommend you to anyone.
We love our Pool !!! Cascade Custom Pools were professional, courteous, straight forward and built us a beautiful swimming pool where we spend all our time enjoying it and being with our family and friends!!!
The experience was awesome. Not to mention that if I ever have a question or a concern Mr. Thompson always returns my phone calls !!!!
We are proud to have a brand new Cascade Custom Pool in our backyard and are looking forward to its extensive use. Thank you to you and your entire team. Cascade is truly a class act!
As a real estate professional, I have the opportunity to cross paths with and learn about many pool builders, both bad and good. After we had a terrible experience with another pool builder in town, a client of mine highly recommended Cascade Pools. After interviewing several pool builders, Hank Thompson, owner of Cascade Pools, was the most impressive. His track record in the pool business is excellent and we knew immediately that we would get along well with him. He seemed to have a "hands on approach" which was very important to us. Our pool is built upon a steep hill, so it was very important that we hire someone with expertise in building this type of pool. Not only did he build what we asked for but the quality of construction and responsiveness has been excellent. Our pool is now 2 years old. We have had a wonderful experience with Hank and his staff regarding questions and warranty issues and, quite frankly, we couldn't be happier with our pool.
I thought of you today when I saw this article in Austin Fit magazine talking about the fact that the Jester hill is Austin's steepest hill… And you and Cascade Pools tackled it successfully with a beautiful pool for us on Tree Fern Lane. I thought you might get a kick out of the this photo and article talking about the steep grade. All the best!
Hi Hank,
Kim and I are so excited about having you build a pool for us! Kim can be a very skeptical and cautious person, and her sense for people is rarely wrong. She thinks you are awesome – quite a compliment.
(after building Brett & Kim's pool)
Hank,
Thanks for the beautiful pool!!
Enclosed is the final payment for our pool. Bruce and I want to thank you again for doing such an excellent job. You followed through on everything you told us you would and all of your workers were great! It's nice to have such a pleasant experience working with someone. I'm sure we'll be sending you referrals over the years. Take care.
Cascade Custom Pools Built us the most beautiful pool I could imagine. We couldn't have asked for a better company to work with.
TJ, Hank, and the entire Cascade Team,
It's a sad day to see this project finally come to an end…TJ, I can hear you laughing all the way out here in Leander! ;-D. I've put the final check in the built-in ice box near the kegerator on our back porch.
Thanks a million to you all; you truly are a first-class, family-owned, and operated business! I know that I'm a first-rate pain the ass, and TJ, you rolled with the punches and were an absolute professional throughout the entire project. Thanks for being you brother! Hank, he's a great chip right off of the ole block! Jason, thanks for hooking Debora and me up on the jeweled-spillway and the outdoor kitchen! It's all badass! The torch sconces and extra water shears included!
Please thank Rueben, Carlos, Carlos' team, Pepe', the plumber, excavator, gunite team, and the ladies in the office; Theresa and Margaret… Thank you all so very much! God bless!
TJ,
Enclosed is payment for the final draw on the Paint Rock Dr. pool. You guys did a great job! Tarin and I were very happy with the finished product. Let us know if you ever need us to serve as a reference for Cascade. Tarin and I both enjoyed working with you and Ryan.
Best,
Anooj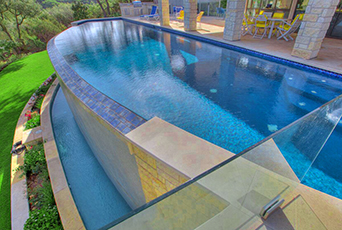 Cascade Custom Pools
14623 TX HWY 71 W
Austin TX 78738
(512) 264-2453 (office)