Thank you for your interest in Cascade Custom Pools! We hope the following information will assist in creating a positive experience with our process.
The initial on-site consultation is complementary. If you wish to move forward from there with a custom design/proposal, Cascade does have a Design Fee (see On-Site Design Meeting below).
Please read the guidelines, and complete the consultation below:
Guidelines for a pool consultation
To be added to our system please email the following information to hillary@cascadecustompools.com:
1. PDF copy of the Property Survey with surveyor's seal: (No photos of this document.) Our design system needs this document to be the Scanned/Scaled original. Let me know if you have any questions.
2. PDF copy of the Property Septic plan (if you have a septic system). We must know where the Septic lids and tanks are on site to accurately design and budget your pool.
3. Desired Budget: Cascade Custom Pools w/ Spas start at $125k. It is impossible to give you a real price over the phone or in email on your pool. Every yard and pool is different in some way with engineering, size, features, and materials used.
4. Inspiration photos and existing Yard photos are also helpful in the design process.
Telephone Inquiry
After receiving the above information and completing the Consultation Request form, we will call you to further discuss your needs and answer any questions you have. Based on that discussion, you can decide if you would like to go to the next level and schedule a site visit with a designer.
On-Site Design Meeting
At this appointment, your designer will discuss your vision in-depth, and develop design ideas based on the site and the style of your home. He will be able to discuss budget parameters with you; this will not be a binding estimate but will aid in creating an appropriate design. There is no charge for this initial meeting. However, if you want to move forward with a detailed custom pool design, there will be a design fee starting approximately 1% of the project estimate. The design fee will be applied to your pool contract if you choose Cascade to build your project, but is not refundable.
Consultation Request Form
If this is all acceptable to you, please complete the form. Required fields are marked with an *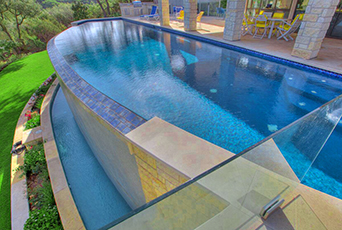 Cascade Custom Pools
14623 TX HWY 71 W
Austin TX 78738
(512) 264-2453 (office)