Frequently Asked Questions
Who Will Manage The Project
All of our projects are supervised by the owner, Hank Thompson. We are a small hands-on company which allows for superior quality control of your construction site. Because we have been building pools in this area for over 40 years, we have been able to attract and retain loyal crews that are the most experienced and talented in Austin.
How Much Does A Pool Cost?
The cost of a pool can vary widely. Similar to building a home, the cost will depend upon it's size, features, equipment, materials selected and terrain of your property.
Can I Visit Some Of The Pools You've Built
Of course, we would be proud to show you our work. We have many satisfied clients that will be happy to talk to you. There are likely some of them living in your neighborhood. We can provide an extensive reference list.
I'm Building A New Home. Is It Better To Include The Pool Now, Or Wait Until Completion?
There are definite advantages to encompassing the construction of your new pool with your home. By adding your pool to your homes first mortgage, you lower the cost of financing, resulting in significant savings. Also, you will not have to contend with the construction process while living in your home.
Do You Have Financing Available?
We are a registered builder with Lyon Financial who specializes in swimming pool financing. There is a link on our Finance page. Also, we have a relationship with a local banker who works closely with our clients to get them financing. Feel free to call our office so we can assist you with getting your pool financed.
What Kind Of Warranty Comes With Your Pools?
We warranty our work to be free from defects in material and workmanship for a period of one year from the date the project is completed. New equipment, installed by our company, carries a manufacturer's warranty of three years, parts and labor. All pools and spas include a Ten Year Limited Warranty on the shell structure. Pebble finish has a minimum of 5 years or per manufacturer's warranty based on product selected.
Do I Need To Be Concerned About The Agreed Upon Estimate For My Pool Changing If Construction Plans Are Changed?
NO, We're a Fixed Price custom pool builder. Once we sign an agreement the price is set, unless the client requests changes.
What If I Need To Submit A Warranty Issue
If you need to submit a warranty claim, you may do so by clicking here.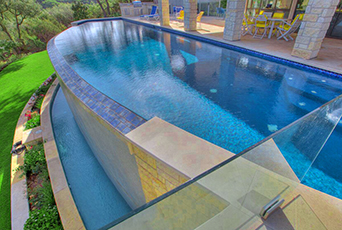 Cascade Custom Pools
14623 TX HWY 71 W
Austin TX 78738
(512) 264-2453 (office)