There are many phases to the pool construction process. Some of the phases can be messy, but with over 40 years of experience, you can trust that you will end up with a pleasant experience and beautiful waterscape. Remember, you have to break some eggs to make an omelet.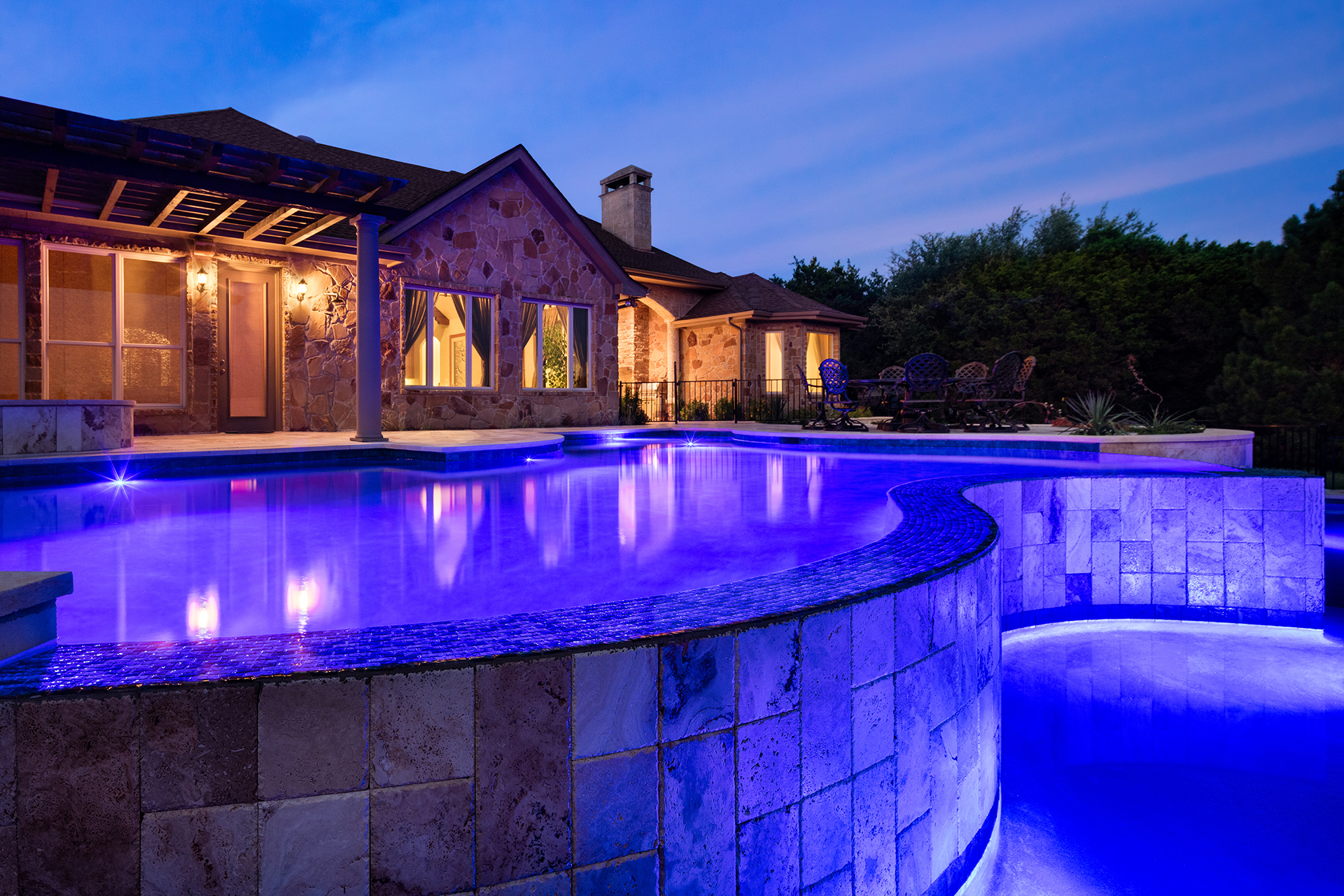 Design
The process starts with a meeting at your proposed location. We will measure, take a few pictures and discuss your vision. This allows us to put your scaled, custom design on a 3D program called Pool Studio. The design will be emailed to you along with 3D computer renderings and specifications priced out so you can understand what you are paying for and be able to compare "Apples to Apples". In many cases, our clients are not sure what they want as far as materials and features in and around the pool, so we can price the project in many different ways. After you receive our proposal, if you have any questions, feel free to call or email us.
Layout
After you approve the final design of your pool, permits (we do this) are in place and HOA approvals (you do this) have been acquired, we will paint an outline of your pool on the ground. Contrary to most pool companies, we are flexible during the construction process in accommodating changes. We will do our best to incorporate any changes you request along the way. There won't be any extra charges unless you are upgrading or adding on.
Excavation
After layout, an excavation crew will begin digging your pool. This is, unavoidably, a noisy phase that will last three to four days depending on the weather and soil conditions. There will be wooden forms around the pool to assist in construction. Most of the excavated dirt will be removed during this process. Some of the dirt may stay on site to be used for other phases of construction. If you would like to use any of this dirt for your landscaping purposes, just let us know.
Steel
After excavation, a crew will form a rigid contoured grid of reinforced steel to create the structure of the pool There will be bars crossing over one another for optimum reinforcement. The tie wires at the intersection tie the steel bars together.
Be careful during this phase, because even though we bend the ends of the steel, they may be sharp. There will be block spacers under the steel to hold it above the soil, so the steel will end up being approximately in the middle of the gunite. When steel is done, it will look like the steps and benches are missing, but these will be shot in during gunite.
Plumbing
Next, the pool will be plumbed with high-grade NSF (National Sanitation Foundation ) approved Schedule 40 PVC pipe designed to prevent leaks and deterioration. All pipe connections are solidly bonded and the entire plumbing system is hydrostatically pressure tested, and inspected daily during construction.
Gunite
Your pool is now ready for application of the gunite. Our trained gunite crew will appear on this day and will usually take one day to complete. Gunite is a mixture of sand, rock and cement that will be applied to the reinforcement grid.
After your pool is gunited, you will notice holes in the floor of the pool. These are left during construction to prevent hydrostatic water pressure from lifting the pool shell out of the ground. They will be filled in before the plaster process. The gunite portion of your pool comes with a lifetime warranty.
Tile & Coping
The next phase is the installation of waterline tile and coping. Our crew will install frostproof waterline tile that will be set and grouted, around the waterline of the pool. The coping will then be laid and grouted on the beam (or top wall) of the pool. Tile and coping should take three to four days to complete.
If you have chosen boulders, a rock waterfall or other natural rock features, those will be installed at this time.
Decking
There are many options when it comes to decking. Natural Stone or Pavers, Patterned Concrete, Exposed Aggregate and Spraydeck to name a few.
Electrical
We use National Electric Code approved conduit wire and bonding, installed by licensed professional electricians. They will install the lights, pumps, filter, cleaner & heater (if applicable).
Your Pool's Interior Surface
Now it is time to apply the surface of your choice to the pool. Your interior finish will be installed in one or two steps depending on the type of application you have chosen. Upon completion, our crews will begin filling the pool with water. After the pool is full, it will require brushing twice a day for two weeks.
Pool Clean Up
Finally, the mess in your backyard will be cleaned up. We will make sure any tire tracks are filled in, all trash is hauled away and the ground around the pool area is raked out. We will put everything back in place that was disrupted during the construction process (except for sprinkler heads and sod, unless otherwise agreed). Soil will be brought in and spread around your pool and in the access area.
Pool School
The project is now finished, so it's time to learn how to take care of your pool and get ready for many years of enjoyment. We will schedule Pool School for you and anyone else who is interested in learning how to operate the pool.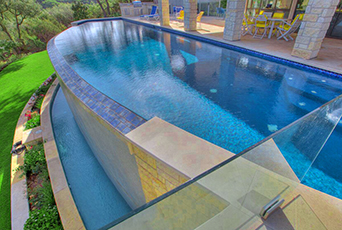 Cascade Custom Pools
14623 TX HWY 71 W
Austin TX 78738
(512) 264-2453 (office)